Data is changing, and now your applications can, too
The nature of data is changing, and we can see it in the increasing popularity of non-traditional data sources like Elasticsearch, MongoDB, Snowflake Cloud Data Warehouse, and the evolution of Hadoop software from companies like Cloudera. Data will always grow bigger, come at us faster, and be managed across a variety of on-prem and cloud systems.
If uncertainty about how to work with data at speed, scale, and complexity has been holding you back, the time is right to lean into the world of modern data. We have your back. Here we show you ways to embed Logi Composer in software applications and workflows, and how to customize and extend Logi Composer for your organization's unique needs.
Embed the Logi Composer User Experience Without Coding
The most popular approach for incorporating Logi Composerinto business applications is to embed the full user experience using iFrames. We sometimes refer to it as "lightweight" because it's the easiest implementation, but there's no disputing the power that's delivered.
Embedding Logi Composer in your application with an iFrame offers full interactivity and exploration of a wide variety of data without coding. Logi Composer colors can be customized to coordinate with your application. For more sophisticated applications, you can also use the RESTful metadata APIs to pass runtime parameters, such as filter criteria, from the parent application into the embedded iFrame.
​The iFrame approach delivers a unified look and feel and is easy to maintain. You don't have to worry about updating or managing a code base. New features and capabilities appear with each new Logi Composer platform upgrade.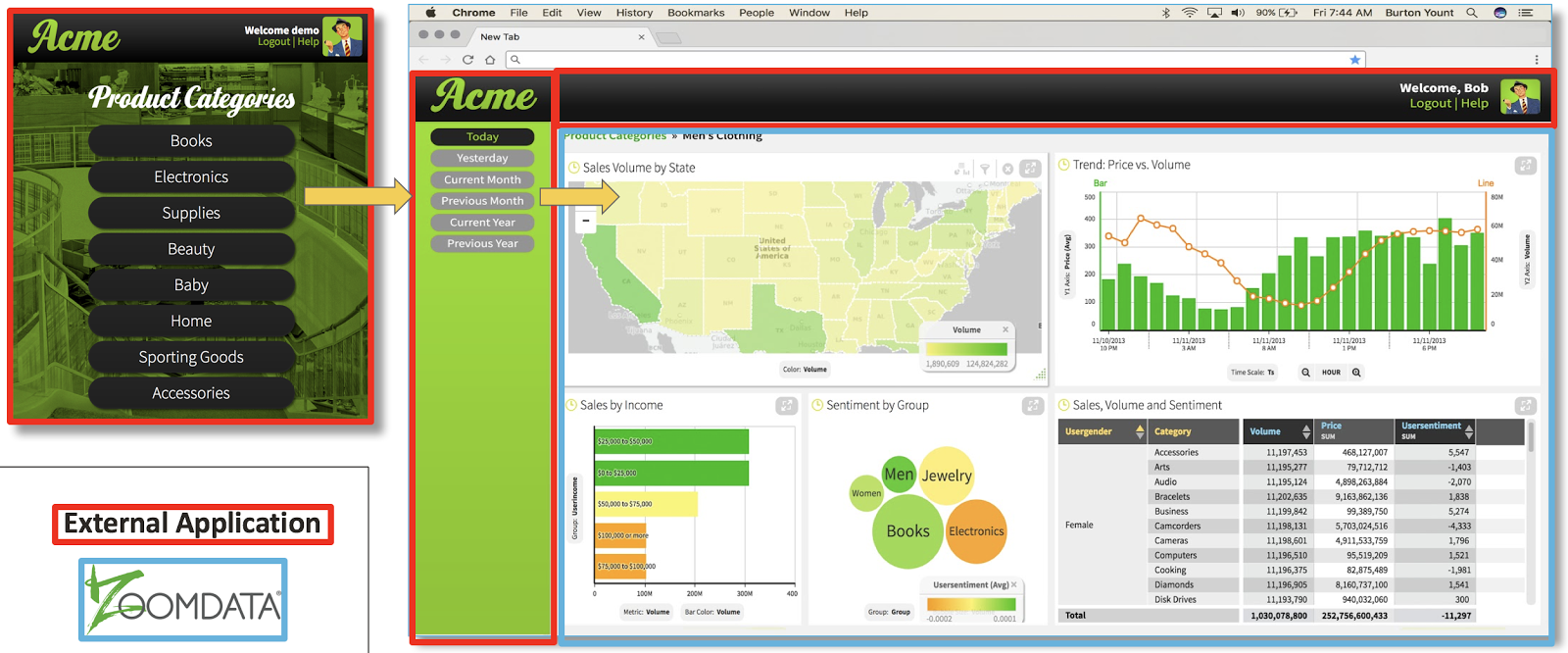 Easy and Powerful Embedded Analytics
Play with a live demo application that embeds Logi Composer using iFrames
APIs for Software Development Teams
JavaScript APIs for web applications
The Logi Composer Client is a JavaScript library for embedding Logi Composer charts in web applications (the embed API) and for simplifying data retrieval for custom applications (the query API).
Embedding Charts
Developers can easily embed Logi Composer charts anywhere in their application, without having to implement chart rendering and maintenance. These charts also inherit Logi Composer's refresh and unique streaming data visualization capabilities so the developer does not need to program updates. Charts automatically redraw in response to data changes due to query configuration (filters, time, group by, metric), and even Data Sharpening and streaming in live mode.
Logi Composer as a Data Engine
The Logi Composer client provides a simple JavaScript API that you can use with all Logi Composer data sources, including modern sources like Elasticsearch and MongoDB that are not SQL-native. The API abstracts data requests and the Logi Composer platform does the hard work to securely connect, query, optimize performance, and optionally cache results for a wide variety of data sources. The API works over WebSockets so you can even stream live data in your applications!
RESTful APIs for management and workflows
Logi Composer RESTful APIs allow software developers to programmatically create, manage, and work with metadata objects such as dashboards, visualizations, data sources, filters and keysets, users, and more.
The RESTful metadata APIs allow Logi Composer to be invoked dynamically as a data visualization service. As one example, you can use the RESTful APIs to accept input from a user or process, and then provision contextual analytics within an application or workflow.
Logi Composer abstracts query requests
Application developers use the same simple query API for Elasticsearch, Impala, MongoDB, Snowflake, SQL Server, and almost anything else you use. No SQL jockeying or XML coding necessary. Logi Composer takes care of the connectivity, query optimization, and optional caching so you can focus on your beautiful application.
Logi Composer can stream data updates
Queries can be updated in real-time with Logi Composer. Our streaming data analytics platform manages windowing, so application developers don't have to worry about expensive query refreshes or stale data. And best of all — it's data platform agnostic!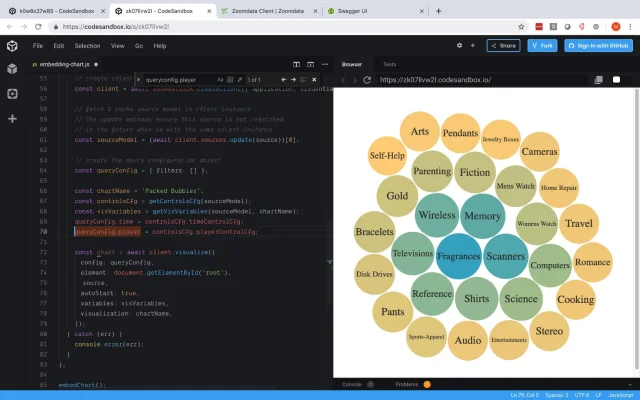 Application developers can stream data to embedded charts
With the Logi Composer SDK, application developers can use simple JavaScript commands to embed charts and populate them with fresh streaming data — direct from almost any source. The charts can even use "playable" mode to stream data updates from the source in near-real time.
Security Integration for Embedded Analytics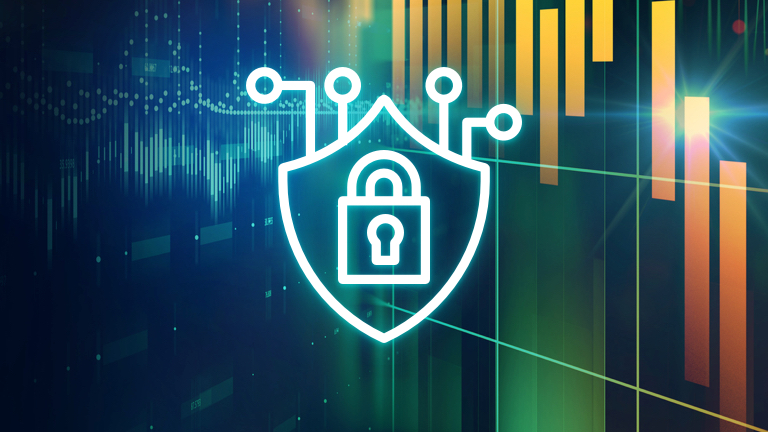 Logi Composer integrates with existing security frameworks, including application single sign-on (SSO) and data access security. And since Logi Composer securely connects directly to your data platforms, you don't need to move, replicate, or rework security at any access layer.
Authentication
Administrators can manage access to the application by creating user accounts in Logi Composer, or by synchronizing with an authentication identity provider (IdP) to take advantage of centralized user management and authentication. Logi Composer adheres to standards-based methods for defining and enforcing security. Supported standard authentication protocols include Kerberos (SPNEGO), OAUTH2, X509, and SAML2 for single-sign-on to Logi Composer along with plugins for LDAP and SAML2 IdPs to facilitate user and permissions verification. Where available, Logi Composer can authenticate as a service using Kerberos or LDAP on connections to data sources.
Authorization
Logi Composer's authorization security model allows administrators to configure Logi Composer user access to data sources, attributes, and records. Role-based access control (RBAC) is configured at the group level with permissions passed via inheritance to the group's members (users).
For data sources that support delegation, users' credentials can be passed as a connection parameter. When enabled, the database authorization policies will be enforced on queries so that they run with the users' privileges.