The more detail the better
When we need to analyze big sets of data with the goal to identify specific events, transactions, or observations, we want the data to be as granular as possible. When it comes to time characteristics, subject matter experts want to store and analyze the data at the second or millisecond level.
It becomes especially clear with the growing number of observations constantly generated by sensors or devices in IoT use cases. Similar to using microscopes in biotechnology, the ability to conduct data exploration at the lowest levels of time granularity often allows you to see the picture from a completely different perspective and therefore come up with business ideas and insights not available before.
Logi Composer adds support for second and millisecond granularities
Logi Composer expands data analysis and visualization capabilities and now allows conducting data discovery and exploration at second and millisecond granularities.
Visualizations
Lower level granularity options have been added to the granularity pickers, and all visualizations relying on time fields can now display results down to milliseconds.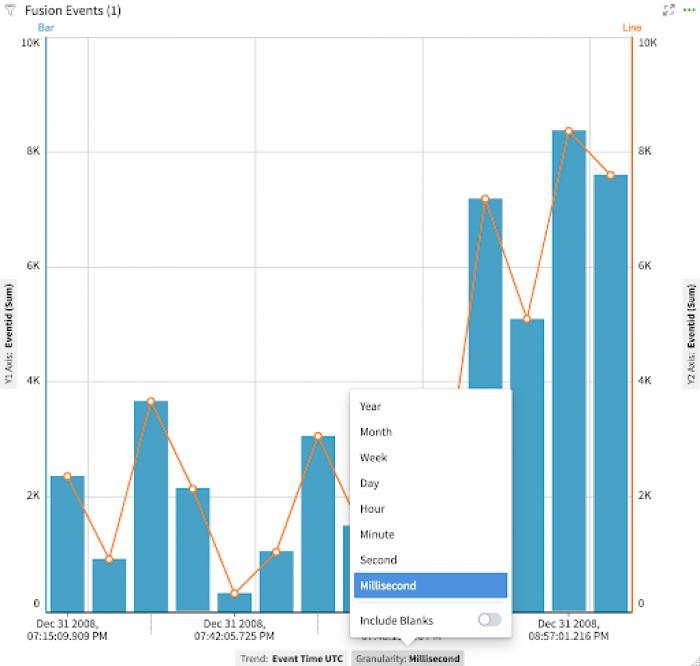 Now you can visualize data at the year, month, week, day, hour, minute, second, and millisecond level for all chart types where time fields can be used. For example, you can visualize and explore:
sensor failures per millisecond or second — new!
log entries per minute
daily shipments
weekly marketing activities
sales revenue by month
etc.
Filtering
Filtering capabilities have also been enhanced to support second and millisecond granularity. The list of filter presets, providing a quick and easy way to specify most commonly used time range filters, has been enhanced and includes lower level granularities.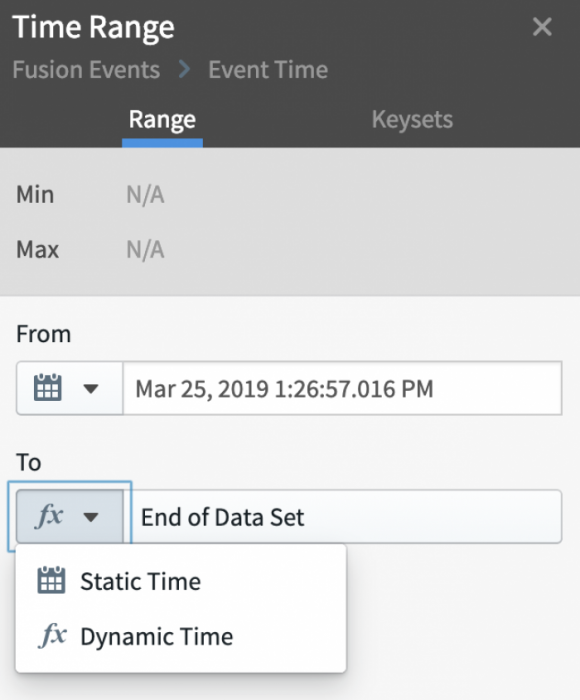 You can specify chart filters up to millisecond precision. The Logi Composer timebar allows you to define time ranges, specifying millisecond-level boundaries. When defining filter criteria you can leverage static or dynamic criteria, and Logi Composer makes it easy to choose the most commonly used ranges, including rolling time windows.
Logi Composer API enhancements
The Logi Composer query API and SDK also have been enhanced. Customers who rely on the Logi Composer platform to embed contextual analytics into their business applications can create second and millisecond visualizations using public APIs.
Push-down processing is fundamentally important
As users explore data at progressively lower levels of detail, the ability to leverage more granular data becomes extremely useful, as users can narrow down the queries to seconds and milliseconds. While providing better analytical capabilities and allowing users to ask more precise questions of the data, specifying queries at the lower levels of time granularity increases the load on the underlying infrastructure, as the number of the analyzed data points that need to be returned to the UI and visualized grows significantly.
In our previous posts, we explained how Logi Composer's push-down processing approach allows users to analyze and interact with data down to row-level detail. As Logi Composer pushes down to the data sources as much work as possible, it reduces the amount of data transferred over the network from the data source to visualizations. This once again underscores the importance of the modern Logi Composer architecture and highlights how new capabilities and functionality can naturally leverage fundamental building blocks of the platform.